Interstate Enterprises offers 24/7 Emergency Service for any Sewer Line Clog
Drain Cleaning Services Stafford County
Interstate Enterprises offers professional drainage system repairs and hydro-jetting service for clogged drains in your home or office. We provide our drain cleaning service for Stafford County, VA area residents and businesses in: Stafford, Fredericksburg, Quantico Marine Corps Base, Garrisonville, Aquia, and Falmouth Virginia.
Any drain in your home will begin to clog over time. This could include: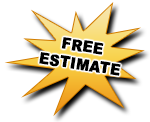 Kitchen drains
Bathroom sinks
Shower drains
Bath tub drains
Toilet drains
Basement Floor drains
Sewer Main drains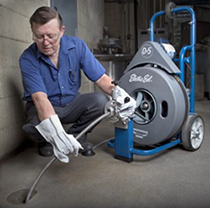 All other household drains in the home will lead to the main sewer line.  If you do not address clogs in these other drains first, it could eventually cause a bigger problem in your main sewer line.  This sewer line runs underground from your home to the street. Your main sewer line can become clogged from the debris those other drains spill into it.  If this line clogs, the other drains in your home will begin to back up also.
After a thorough video camera inspection, Interstate Drain Cleaning Service will use our specialized equipment to completely remove any debris causing the blockage and make sure that your drains are as clean and free-flowing as possible.
A popular method used to assist with clearing clogged drains is Hydro-Jetting.   This method uses an incredibly high pressure of clean water to clear the debris left in the sewage line causing your clog issue.
In many cases, we will be able to use hydro-jetting services to clear the clog in your pipe lines quick and inexpensively. This method of clearing sewage lines has worked for many of our other customers who have had it done for their own homes.
There are many benefits to using hydro jetting, including: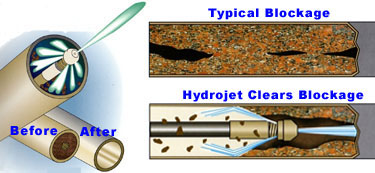 Cleans the pipe to its fullest capacity
Being a cheaper alternative than many other methods
Process can be completed quickly, sometimes in minutes
Better than rodding
Reduces the chance of losing business revenue in the commercial setting.
Hydro Jetting can also be used to clean debris from roof drains, downspout lines and storm culverts.
Your Interstate Drain Cleaning Specialist will always explore using this option first when devising a solution to your clogged drain issue.
Interstate Enterprises offers 24/7 Emergency Service for any Drain Cleaning Service
Click Here to contact us for a FREE Estimate.